Regular price
$69.99
Sale price
$19.99
Unit price
per
Sale
Sold out
Give your feet the relief they deserve!
We spend a ton of hours on our feet. Whether we're running, walking, or working, our feet deal with a lot of stress and discomfort.
If you're searching for a product that will relieve your pain, then you're in the right place. Our Comfy feet luxury massage slipper are ergonomically designed based on the ancient principles of reflexology.
Featuring high-grade EVA material with Acupressure points, our Luxury Massage Slippers help improve physical mobility and blood circulation, while also relieving your feet and lower back pain. These are the perfect recovery shoes to slip on after a workout, run, or any heavy activity!
With these slippers at home, there's no need to go to the spa. Massaging your tired feet is an easy way to improve physical mobility and blood circulation.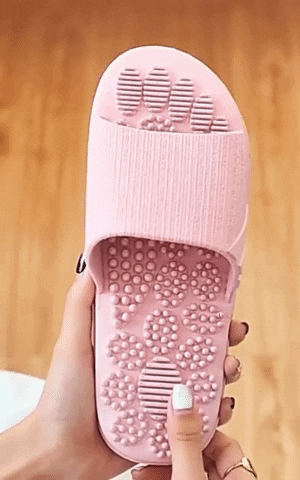 Our Massage Slippers Benefits 
Premium Design:

 

Crafted with top-quality EVA material, the Luxury Massage Slippers are lightweight, yet extremely durable. The Acupressure points effectively massage and provides your feet with soothing therapeutic relief.
Multipurpose:

 

These massage slippers can relieve stress and leg cramps, and improve metabolism and circulation. They also promote better blood flow to enhance your overall health and quality of life.
Less Pain in Less Time

:

The unique massage slippers help relieve pain in just 20 minutes a day, enabling you to feel better in just 2 weeks. The ergonomic insole uses stimulation to improve blood circulation in the feet, relieving your foot pain and helping prevent the pain from returning.
Increase mobility without taking pills: These relief slippers are built for comfort, with an ergonomic design that will conform to your feet. The sole is made with high-grade synthetic materials, providing the support you need while massaging your feet.
Instantly Effective:

 

You will feel the power of Acupressure right away! It may be uncomfortable during the first few times, but after your feet adjust to it, you'll start craving the feeling as the results will be amazing.
Ultimate Recovery Tool:

 

Do you run, jog, hike, bike, or work a physically demanding job? If so, these Luxury Massage Slippers will feel like heaven. Simply slip them on after your long day and watch your pain melt away.
These massage slippers slip on easily and apply focused pressure to the ball, heel, arch, and toe. Feel relieved from muscle tension from your feet up through your body.
Replenish your energy with an acupressure massage in the comforts of your home, office, or car.
Share
View full details