Organizing your car can be a hassle. There are so many things to keep track of, like phones, sunglasses, wallets, and more. The last thing you probably want to do is add more stuff to the mix and clutter your car with a bunch of accessories that you don't need. So today, I've put together a list of 10 top car organizers for any budget. Each one will keep your car organized and clean, without increasing clutter in your vehicle.
Car organizers are a great tool to keep your car organized and neat, and they're easy to install. Here's how to find the best car organizer for you.
How will it fit in my car?
The first thing you should do is measure the dimensions of your front seat, trunk or backseat , paying attention to the depth. Most organizers come with adjustable straps, which can help with sizing, but if the organizer you choose has straps that cannot be adjusted, you may have to return it or purchase another one.
Next, check the weight limit on the organizer's strap system. This strap system is usually located under the organizer and is used to secure it in place. If your car already has a strap system installed in your trunk or backseat, you may be able to use this one instead of purchasing new straps.
What features should I consider?
When shopping for a car organizer, you'll want one that comes equipped with multiple compartments and pockets so that you can organize your items effectively. You'll also want an organizer with a reflective surface so that items inside of it are more visible when driving at night. Some organizers even come with hooks for hanging grocery bags so that liquids won't spill during travel. If this is something that would be useful for you,
Our Top 5 Best Car Seat Organizers (Under $30) can help you add some organization to your car.
This car organizer comes with a detachable cup holder with an attached tray table, cell phone holster, pen slots and assorted pockets, and attaches safely to the front seat headrest so everything you need is within arms reach when you're on the road.
This front seat car organizer is a very useful and necessary car accessories for all people, whoever you are!It can perfectly match your car perfectly and keep your car neat, clean and easy to be found all stuffs in it. It is multifunctional, multifunctional universal insert car cup holder front seat organizer for your vehicles. The design is simple, but creative and practical.

Originally designed to organize purses and handbags in the backseat, our Car-Net Pocket handbag holder is perfect for keeping items in the backseat organized and within arm's reach. It includes a matching pouch to hold smaller items, and its adjustable straps allow it to fit over any size seat.
This 3-layer car seat organizer includes a front pocket, middle cup holder and a rear cargo net to help with your organization. It's constructed of high-quality mesh fabric with elastic bands to easily stretch over any car seat back.
Easily keep your car organized by slipping the Luxury Leather Car Seat Gap Pocket into the space between your seat and center console. Designed for easy access, this car organizer has twin cup holders and spacious pockets for storing all of your essentials, keeping them within reach so that you can stay focused on the road.
Arriving on the scene is a smart and convenient way to keep track of your kids' stuff in the backseat of your car. Designed with a tablet holder, universal organization pockets, and multiple water bottle holders for mom and dad too, our Car Organizer is more than just a kids' seatback organizer. Whether you're headed to soccer practice or your first big family vacation, this one-stop-shop is sure to become a staple item in your car.
 Car Rear Mesh Trunk Storage Organizer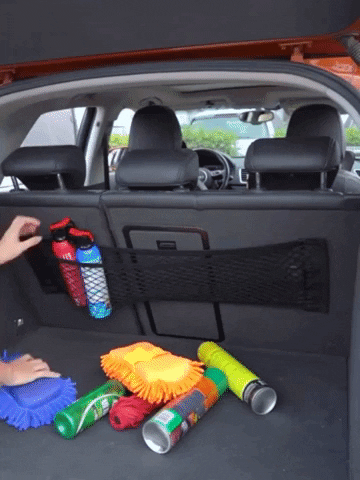 Keep things from rolling around your car or truck cab with the Car Rear Mesh Trunk Storage Organizer. This elastic mesh organizer has tons of pockets and pouches to help you keep all of your gear organized and within easy reach. There are even a few pockets that work great for holding drinks, snacks, and other essentials.
If you are a person who needs to keep all your small items at the ready in your car, a car organizer is probably something you would appreciate. It's not only useful for people who have kids, but also for individuals who like to drive and read, shop, listen to music or even eat and drive without the distractions of having all their stuff in the way.
car seat organizers, car seat pockets, car seat storage ideas, best car seat organizer, toddler car seat organizer, baby car seat accessories, mommy hacks, easy car seat organizers, best storage for car seats